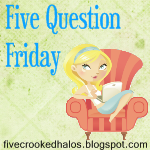 Rules for Five Question Friday:
Copy and paste the following questions into a blog post, answer them, then watch for the linky and link up!
1. What is your favorite part of a Thanksgiving meal?
Cranberry sauce, not the canned kind, ew! The real, chunky, full of yummo cranberries kind!
2. Are you a host or a guest for Thanksgiving this year
Host to my immediate family. The middle son has an identified rash on his neck and we could not go to our friends' house as planned. Stupid rash, I almost escaped.
3. When you think of one Thanksgiving tradition, what comes to mind?
We try and do a new dish that we have never tried before each year. This year we were going to have a few new dishes with our friends, but, um, the rash.
4. You have two pieces of pie in front of you and you HAVE to eat one...do you choose pumpkin or pecan?
Pecan, with homemade whipped cream!!
5. There was no #5 on my link...LOL